WWTc Pro 15 Rescue Rope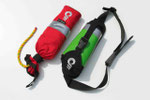 Pro 15
Construction: 8mm 15m floating rope
Core: Polypropylene/Polyester
Cover: Polypropylene
Tensile Strength: cca. 10 kN (1000kg)
Knotted Tensile Strength: cca. 7 kN (700kg)
Weight: 570g / 770g including waist carry system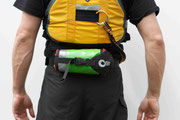 Designed for Kayakers, Raft Racers and Raft Guides.
- Light and Quick -
extremly small and easy to handle. fits on kayakers waist while in the kayak. Perfect for raft racers, and for raft guides who prefer a small throwbag as a second rope. Mainly for swimmer rescue.
Small and handy
You will love it as i do...